While some success stories on this page are becoming dated, they do provide historical examples of our deep experience (as the Center for Rural Entrepreneurship) working with entrepreneurial communities across the U.S.
The stories are listed in alphabetical order by state. Scroll down to find testimonials, video, downloadable resources and more!
Arkansas
alt.Consulting has launched a Communities of Innovation initiative in the Arkansas Delta, driven by the need "to do more and generate deeper impact, faster." e2 Entrepreneurial Ecosystems (formerly the Center for Rural Entrepreneurship) shared assessment and other tools. Read more about this great work in an excerpt from alt.Consulting's annual report.
Arizona
Sahuarita, Arizona is a booming community located on Interstate 19 between Tucson and Nogales, Mexico. Sahuarita was a sleepy, small town that evolved into one of the fastest growing suburban areas in America. Growing Local Economies and the Center teamed up to help Sahuarita and the University of Arizona discover entrepreneurial talent and craft a development game plan based on this talent.
Iowa
Pottawattamie County is home to Council Bluffs on the western edge of Iowa. Council Bluffs is part of the Omaha Metropolitan County, but much of Pottawattamie County is rural - populated by farms, acreages and small villages. In working with the Western Iowa Development Association, Iowa Western Community College, and the Iowa West Foundation, the Center provided business coaching.
Kansas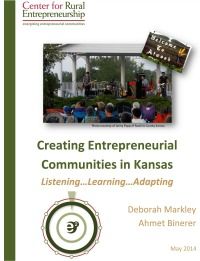 What comes to mind when you hear the word Kansas? Wheat fields… tornados…The Wizard of Oz…Kansas City barbecue? Our case study shows that Kansas has another side: innovator of entrepreneurial development. For more than a decade, a committed group of business, social and civic entrepreneurs collaborated to advance entrepreneur-focused economic development and to create entrepreneurial communities. We've been an active partner, both contributing to and learning from this collaboration. As the case study demonstrates, these efforts are achieving economic development impacts: businesses started, jobs created and saved, private investments made. More and more economic developers are focused on growing their own. Communities are embracing entrepreneurs and seeing hope for the future in supporting these economic development engines. Creating entrepreneurial communities in Kansas has been an evolutionary process, one of listening, learning and adapting over time. We wrote this case study to document the context, describe the evolution, offer some perspective from the communities engaged and share lessons learned so that it might inform your entrepreneurial development efforts.
The NetWork Kansas Entrepreneurship Community Partnership with E-Accelerator is one of America's most productive entrepreneur development systems in the United States. e2 is a partner in this Kansas initiative. Check out the Rawlins County story in Search for Solutions, The Future of Rural Kansas for a great community turn-around story.
Montana
Missoula is a small metropolitan area located in the western mountains of Montana. The Center and Growing Local Economies worked with the BitterRoot Economic Development District focusing on emerging entrepreneurial clusters in the post Great Recession climate. Despite the housing crash, the seeds for renewed economic prosperity in this region of Montana were identified through this work. Assessment and strategy reports where developed and used by Missoula.  
Nebraska
After 15 years, O'Neill, Nebraska's commitment to entrepreneurship, youth engagement, leadership development and community philanthropy is paying off! Working with the Center, the Nebraska Community Foundation and Heartland Center for Leadership Development, this community is seeing the results as young families move to town, start businesses and put down roots. Read more here.
Texas
After working with Texas in the early 2000's, the Center for Rural Entrepreneurship helped Texas rural leaders Greg Clary and Quincy Ellis jumpstart the Texas Center for Rural Entrepreneurship. Now, the two organizations are partners. Learn about the history of the Texas Center for Rural Entrepreneurship.
Wisconsin
Fond du Lac, Wisconsin is located between Milwaukee and Green Bay. This community of 100,000 is in the heart of manufacturing country, which was hard hit by the Great Recession. Fond du Lac is home to Mercury Marine Corporation and hundreds of small and mid-sized supply chain companies. The Center and Growing Local Economies worked with the Fond du Lac Economic Development Corporation to prepare an opportunity assessment and strategy for the EDC's next generation entrepreneurship game plan.