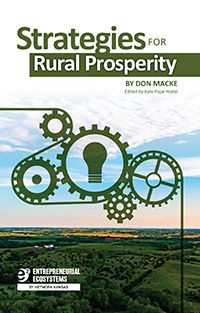 Strategies for Rural Prosperity (2023)
Strategies for Rural Prosperity provides a framework for rural relevant community economic development accompanied by 11 likely entrepreneurial development opportunities. These 11 entrepreneurial development opportunities feature strategies anchored in over 40 years of field experience across North America. These strategies are practical and innovated by rural people and communities. In Strategies for Rural Prosperity, e2 Entrepreneurial Ecosystems provides readers development frameworks that they can customize to their communities alongside guides for crafting and executing high impact entrepreneurial game plans.

Kate Hodel, editor of Strategies for Rural Prosperity, hosts a conversation with Don Macke with e2 Entrepreneurial Ecosystem, book author.
---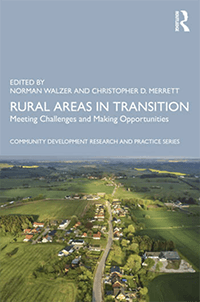 Rural Areas in Transition: Meeting Challenges and Making Opportunities (2023)
This volume explores new opportunities to reshape local economies in rural areas during the next decade by exploring successful efforts already underway.

---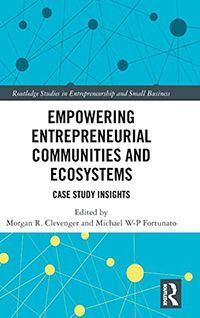 Empowering Entrepreneurial Communities and Ecosystems: Case Study Insights (2022)
Entrepreneurial Communities and Ecosystems: Case Study Insights aims to provide applied examples that embody the theories, principles, and processes that contribute to empowering everyday entrepreneurial communities and ecosystems.

---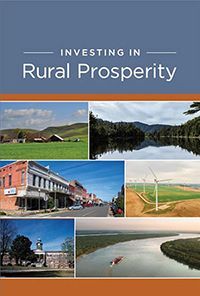 Investing in Rural Prosperity (2021)
Investing in Rural Prosperity, published by the Federal Reserve Bank of St. Louis in collaboration with the Federal Reserve Board of Governors, seeks to help rural individuals and communities achieve shared economic prosperity. It outlines a framework for how to approach rural development successfully and showcases stories of progress in different communities—as well as highlights opportunities for policymakers, practitioners, funders and researchers.

---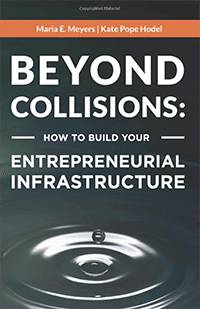 Beyond Collisions: How to Build Your Entrepreneurial Infrastructure (2017)
Beyond Collisions provides a clear, proven path to building the entrepreneurial infrastructure that can enable people to start and grow thriving companies. It's not one program, no silver bullet. It's a process, a strategy to identify, connect and empower entrepreneurial support resources, and then measure the results.

---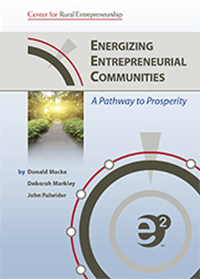 Energizing Entrepreneurial Communities: A Pathway to Prosperity (2014)
This book shares e2 Entpreneurial Ecosystesm evolved approach and associated tools to help communities of all sizes create a supportive ecosystem for their entrepreneurs to increase impact.

---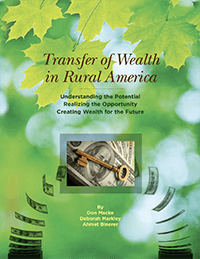 Transfer of Wealth in Rural America – Understanding the Potential, Realizing the Opportunity and Creating Wealth for the Future (2011)
Don Macke, Deborah Markley and Ahmet Binerer share transfer of wealth scenarios for the U.S. – a remarkable $15.4 trillion could be passed from one generation to the next over the next 20 years. What might this mean for communities and foundations, particularly in rural America?

Featuring updated "transfer of wealth numbers," this special report for the Chronicle of Philanthropy highlights the philanthropic potential in the next 10 years and shares stories of foundation action and commitment to capture some of this transfer for community strategic grantmaking investment.
---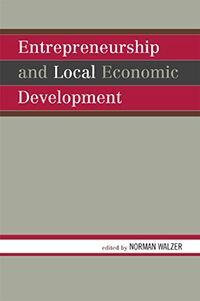 Entrepreneurship and Local Economic Development (2007)
Entrepreneurship and Local Economic Development delves into the current thinking on local entrepreneurship development programs and evaluates ways in which practitioners can implement successful entrepreneurship practices. Examining the role and potential for entrepreneurship programs in local economic development strategies, contributors to this edited collection have many years of experience working with entrerpreneurship initiatives in state and local governments. Focused on theory and case study, Entrepreneurship and Local Economic Development examines conceptual issues involved in creating entrepreneurship programs as well as practical examples of programs organized by state, regional, and local agencies.

---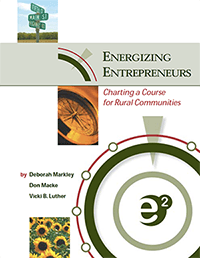 Energizing Entrepreneurs: Charting a Course for Rural Communities (2005)
A guide for the rural community leader who is helping to transform their communities into hotbeds of entrepreneurship. This book discusses what communities can do to energize entrepreneurship in general and how to support local entrepreneurs individually. Packed with insightful tips and advice from experts with years of experience in the field, Energizing Entrepreneurs is a "must have" for anyone working to create supportive environments for entrepreneurs, new sources of wealth and sustaining economic betterment.

Companion Guide to Energizing Entprepreneurs: Charting a Course for Rural Communities. This resource provides government leaders with useful information, insights, and examples about how to energize an entrepreneurial economy, and achieve more dynamic and successful economic development through entrepreneurship.
---
Economic Gardening (2019)
Economic Gardening by Chris Gibbons is about building a nurturing environment for local entrepreneurs, and in particular those second stage emerging growth companies that export innovation.

A companion piece to Chris Gibbons' Economic Gardening book, discussing America's oldest entrepreneurial approach to economic development.