In 2017 the Center was acquired by Virginia Community Capital (VCC), a community development financial institution (CDFI), to be part of the team that launched LOCUS Impact Investing, a social enterprise with a mission to empower place-focused foundations to invest their capital locally to build prosperous, vibrant communities. The Center's community development philanthropy work and analytic tools, including Transfer of Wealth™ Opportunity Analysis, will continue to evolve and bring value to foundations as part of the broader LOCUS mission. Learn more here or by clicking the logo below. We look forward to providing a more comprehensive range of philanthropy and investment solutions for communities through this transition! You can continue to explore the Center's entrepreneurship work on this website and archived philanthropy resources.

---
Transfer of Wealth (TOW) is what occurs when one generation passes on assets to the next. We know that communities and regions need tools and support for moving from understanding their TOW opportunity to developing strategic grant-making capacity and long-term investments that will make a difference in the futures of their communities. Transfer of Wealth™ analysis is one way we bring Empowering Research to community leaders as a decision-making tool.
At the Center, we not only calculate your TOW opportunity, we provide tools to help communities:
use locally-controlled assets to support the development strategies that matter,
focus efforts on making investments that strengthen the community, and
acknowledge the well-being of all community members.
Over the past decade, the Center for Rural Entrepreneurship has conducted Transfer of Wealth (TOW)™ studies in roughly 60% of the counties in the United States.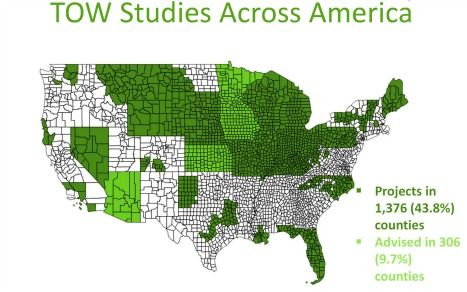 Click here to learn more about the impact of our TOW studies.
Sample TOW Reports/Studies
Below is a collection of sample reports. Feel free to download them or contact Don Macke to see how you might benefit from your own Transfer of Wealth study. Don't forget to check out our Community Development Philanthropy resource library for even more resources!
This is an update of the 2008 Pennsylvania TOW study. You can find a copy of that study in our Resources--Transfer of Wealth Studies tab of this website.

for Kern Community Foundation | Growing community. Growing philanthropy.

for the California Community Foundation

for Maine Rural Partners | Strengthening our rural communities.

for the Kentucky Philanthropy Initiative | Promoting strategic philanthropy for the public good.

for the San Diego Foundation | We must understand. Then we can act.

for the N.C. Rural Economic Development Center

for the Council of Michigan Foundations and the Midwest Community Foundations' Ventures