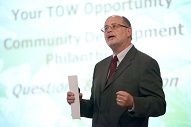 Macke is Co-Founder of the Center for Rural Entrepreneurship and its Director of Entrepreneurial Communities solution area. The Center works throughout the United States and Canada supporting research, outreach, professional development, and policy work related to rural entrepreneurship. 
Don has over 40 years of experience in the field of community economic development. He has served on the staff of the Nebraska Legislature, the Cabinet of the Nelson Administration in Nebraska, and worked as a consultant in 45 states, Canada and the Caribbean. Since founding the Center, Don and the Center team have logged over 1 million miles travelling throughout rural North America, working with community, regional, and state leaders to create more robust strategies for entrepreneurial development.

Don leads the Center's entrepreneurial communities solution area team. Our E Communities work provides community and regional leaders with the framework and tools needed to grow more effective and efficient systems of support for entrepreneurs as a way to strengthen local economies and achieve meaningful and broadly shared development impacts. The E Communities framework has been applied with success in diverse communities and regions.

Another part of Don's work focuses on community development philanthropy and America's transfer of wealth (TOW) opportunity. The Center's TOW team has completed over 40 studies, covering over one-half of the counties and communities across the nation. Don was a co-founder of the Nebraska Community Foundation and served as its first Executive Director.
Don has a MA in Regional Economics and a BS in Environmental Science from the University of Nebraska at Lincoln.  Lincoln Nebraska is Don's home.  He is married to Jenny Carver, a Pre-School Special Education Teacher and they have two sons - Sam and Eric.
---
Download the info below on how Don and the Center can help you with your next event!
This document provides you with a narrative on Don's experience.

A detailed list of Don's experience including publications, certificates, professional associations and more!

In this video, Don Macke and Deb Markley discuss why the Center supports communities in their efforts to build brighter, sustainable futures.

Watch Don Macke participate in a panel discussion at the Mar. 10, 2015 NTCA Rural Telecom Industry Expo.