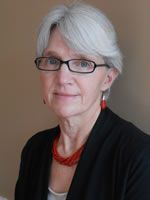 Markley is Co-founder and Managing Director of the Center for Rural Entrepreneurship, a national non-profit organization and Senior Vice President with LOCUS Impact Investing, a partner of the Center. The Center helps communities leverage assets, primarily their business, social and civic entrepreneurs, for a more prosperous future. We work in partnership with communities to provide research-based, asset-focused comprehensive and customized entrepreneurial development assistance. Deb brings over 30 years of experience in community economic development. Before founding the Center, she held academic positions and operated her own consulting practice. Her field-based research has been presented in academic journals, as well as to national public policy organizations and Congressional committees.

Deb has a B.A. and M.S. in Agricultural Economies from Cornell University and a Ph.D. in Agricultural Economics from Virginia Tech. She and her husband, Bob, Managing Director for International Development at Duke University, live in Chatham County North Carolina. They have three grown children.
---
Download the info below on how Deb and the Center can help you with your next event!
This document provides you with a narrative on Deb's experience.

A detailed list of Deb's experience including publications, certificates, professional associations and more!