December 2017
Wealth Trends and Implications for Philanthropy
In the final issue of the 5-part series, "Philanthropy and Community Building in the 21st Century," Don Macke shares the latest wealth trends based on just-released data on educational attainment, work status and assets by household wealth. This data implies that helping foundations move into strategic grant making and impact or mission-aligned investing can provide pathways to community building that empowers more of our neighbors to achieve greater economic choice and security. 
October 2017
Realizing Broadly-Shared Prosperity in America
In this 4th issue of "Philanthropy and Community Building in the 21st Century," Don Macke provides a solution to the growing income inequality in America.
September 2017
Entrepreneurs and American Wealth 
In this issue, Don Macke makes the case that growing rooted entrepreneurs and helping them achieve greater success not only generates new wealth for them but for communities.
August 2017
America's Transfer of Wealth Opportunity
In the second issue of the "Philanthropy and Community Building in the 21st Century," Don Macke provides the history of U.S. wealth transfers, updated 2017 figures and makes the case for capturing this enormous opportunity for community building. 
July 2017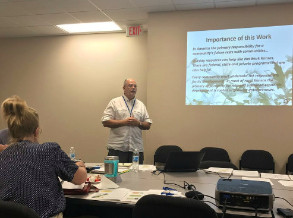 Philanthropy and Community Building in the 21st Century (5-part series)
Don Macke kicks off a thought series with "Perspectives from the Field," containing insights about philanthropy and community building developed over more than 40 years. Watch for the series to be developed as a guide for developers interested in harnessing philanthropy and transfers of wealth to build more prosperous communities.
September 2016
A New Domain for Place-Rooted Foundations:  Economic Development Philanthropy
This paper originally appeared in the September 2016 The Foundation Review special issue, The Future of Community and was co-authored by the Center's Deborah Markley and Don Macke and the Aspen Institute's Janet Topolsky, Travis Green and Kristin Feierabend. In it they assert that economic development philanthropy is a new domain for place-rooted foundations and that foundations have an important role to play in this development. They also provide insights into what it will take to build a movement of place-rooted foundations to embrace social entrepreneurship and advance an economy that works. A spin-off event of the special issue is a webinar co-hosted by Deb Markley and Laurel Carlton, Director, Leadership Initiatives and Governance, Community Foundations of Canada on November 3, 2016.
To download the paper, click the title above.
To register for the webinar or receive additional information, click REGISTER.
To check out the entire special issue, click The Future of Community.
October 2015
Redefining Wealth for the 21st Century
Deb Markley and partner, Janet Topolsky, Aspen Institute Community Strategies Group, write a timely blog in response to what Darren Walker, President of the Ford Foundation, recently offered as an exceptional perspective on how philanthropy and social policy must adapt to face today's inequality challenge. Download this HuffPost by clicking the title above.
April 2014
Diversity is most often viewed in terms of race or gender. Is there a mix of races in a particular community or neighborhood? Are women well represented among the leadership of a community or a company? Given the differences in values and characteristics across generations, it may be useful to understand diversity from a generational perspective. The generation groomed during the Depression Era bears little resemblance to those "millennials" who came of age in more affluent times. Data from several sources (referenced below) are used to create a profile of generational diversity for Lorain County Ohio, beginning with the "Missionary" generation born from 1860 to 1882 through the "Homeland" generation born since 2005. Implications of generational diversity for community‐based philanthropy are discussed as well.
June 2013
Many communities are challenged to find funding from local, state and federal sources for targeted economic development projects. Without these development resources, rural regions in particular struggle to develop genuine economic opportunities, vibrant communities and more sustainable futures. Yet a significant but untapped development resource exists in the transfer of wealth from one generation to the next. This resource, combined with the diverse development assets that exist in rural places – new energy resources, niche manufacturing, regional value-added food products, tourism of various forms – creates the opportunity for rural places to become more robust and resilient contributors to the national economy.
April 2013
Marriage is often thought of romantically by people, but the institution of marriage comes with so many other benefits and costs that people may not normally associate with it. While some may draw a line between their financial and private lives, the two often affect each other in observable and unobservable ways. Marriage creates one household but divides the tasks necessary to run the household between two people. There is more time and more income. People live longer and even have access to tax breaks that are not available to single households. It goes without saying that married life and bachelor/bachelorette life are different, but can they really be that different economically and how does that affect transfer of wealth opportunities in the future for community foundations and non-profit organizations?
February 2013
Understanding the Composition of Wealth
It is essential for community foundations to understand what characteristics may contribute to both the individual's ability to donate and how those individuals are distributed geographically. When identifying donors, there is no cookie cutter methodology we can apply to reveal possible donors. However, by probing the data for trends, we can begin to build a picture of who makes up community foundation's target donors. Asset distribution is a key component to understanding a household's wealth composition and knowing that enables community foundations to tailor their philanthropic efforts to the wealth that is available to them in the area. One way of understanding this distribution is through educational attainment.
January 2013
Communicating About the Transfer of Wealth Opportunity
Following the Great Recession (2007-2009), the Indiana Grantmakers Alliance contracted with the Center to update the state and county Transfer of Wealth (TOW) analysis. As part of this project, the Center prepared a short presentation to explain the effects of the Great Recession on wealth holding patterns, emphasizing that a significant transfer of wealth opportunity still exists within Indiana. The updated analysis was shared with members of the Alliance and the message resonated with the leader of Washington County's foundation.
August 2012
Distribution of Assets by Net Worth Category in 2010
A new study by the Federal Reserve Board, Changes in U.S. Family Finances from 2007 to 2010: Evidence from the Survey of Consumer Finances, looks at changes in household financial characteristics. This is the tenth publication by the Federal Reserve Board examining household financial characteristics; the first was published in 1983. There is little question that the Great Recession (2007‐2009) has impacted the financial well‐being of most households. In this paper, we consider how financial and non‐financial assets are allocated by household across different net worth categories. Through this paper, we hope to provide insights into possible donors with different levels of capacity to give‐back.
May 2012
Entrepreneurship and the Great Recession
This issue paper builds on TOW Issue Paper No. 1 and examines financial and non‐financial characteristics of self‐employed households between 2007 and 2009. Through this issue paper, we hope to provide leaders with insights into how self‐employed households – representing a potential pool of entrepreneurial talent in communities – weathered the recent Great Recession.
April 2012
Wealth Creation and Entrepreneurship
Entrepreneurship has deep roots in American culture. Our capitalist system has established the necessary conditions within which entrepreneurs have created both personal and community wealth. As the country continues to find its footing coming out of the Great Recession, economists and policymakers have pointed to research showing the positive link between entrepreneurship, job creation and economic growth. Efforts like StartUp America, the Jobs Act, and others show the attention that is being given to entrepreneurs as the generators of economic activity, jobs and ultimately wealth for the country.