Community Development Philanthropy Success Stories
In 2017 the Center was acquired by Virginia Community Capital (VCC), a community development financial institution (CDFI), to be part of the team that launched LOCUS Impact Investing, a social enterprise with a mission to empower place-focused foundations to invest their capital locally to build prosperous, vibrant communities. The Center's community development philanthropy work and analytic tools, including Transfer of Wealth™ Opportunity Analysis, will continue to evolve and bring value to foundations as part of the broader LOCUS mission. Learn more here. You can continue to explore our entrepreneurship work on this website. We look forward to providing a more comprehensive range of solutions for communities through this transition!
---
Stories are listed in alphabetical order by state. You'll find testimonials, video, downloadable resources and more!
California
Colorado
The Telluride Foundation is partnering with the Center for Transfer of Wealth and Community Engagement services to build and expand the work of the Paradox Community Trust reaching underserved rural communities in southwestern Colorado. Read more about this evolving project!
Florida
Hear Mark Brewer, Chartered Advisor in Philanthropy ®,  Chairman, Florida Philanthropic Network, and President/CEO, Central Florida Foundation speaking at the Florida Chamber Foundation's Future of Florida Forum, October 2013. In his speech Mark makes the connection between private, government and "third" sectors and emphasizes the importance of the state's transfer of wealth opportunity as outlined in the Transfer of WealthTM study produced by the Center. Video
Illinois
Indiana
Iowa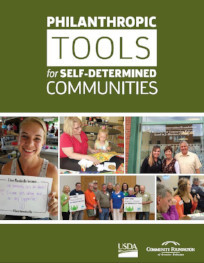 In 2014, the Center partnered with the Community Foundation of Greater Dubuque to seek USDA Rural Community Development Initiative (RCDI) funding to launch philanthropic efforts in five rural Northeast Iowa communities. A two-year, $150,000 RCDI grant was awarded to address chronic challenges and identify community champions to help build a brighter future in those 5 communities.
"Don Macke's many years of experience and knowledge in community economic development provided credibility to the initiative. He helped ground the team with best practices and provided a framework for rolling out the initiative with these five communities. Don also was very instrumental in helping us with the nuances of working with stakeholders and champions of the initiative and then training our staff on how to work with these groups." Nancy Van Milligen, President and CEO
For the project, the Center provided technical tools, coaching and strategy design to the Foundation and local leaders, including the following papers:  Action Planning LINK, Capital Campaigns LINK and Donor Development LINK. The project culminated with a downloadable publication and website, Philanthropic Tools for Self-Determined Communities, both of which are filled with the tools used by the communities that others can use to inform their own work building pathways to greater development success.
"I am more convinced than ever that community foundations have the power to inspire and equip community leaders by providing stories, tools and troubleshooting." Project Leader MJ Smith, Director of Affiliate Foundations
The Foundation is moving forward with another RCDI grant to help even more Iowa communities.
Michigan
Mississippi
The Center wrapped up a statewide Transfer of Wealth™ study initiated by the Mississippi Association of Grantmakers and the Social Science Research Center - Mississippi State University. The study will be used in 3 ways: 
1. with community foundations for long-term giving strategies and endowment building
2. with legislators to support a new initiative, Endow Mississippi
3. to develop message strategies for communicating with foundation board members
"Thanks again for all you and your team has done to make a dream come true!  We are so grateful for all your work and I'm incredibly pleased at the way the partnership with SSRC worked out.  By the two organizations working together, we have gotten more than we originally expected, so I couldn't be more pleased with the outcome." Sammy Moon, Coordinator, Mississippi Association of Grantmakers
Nebraska
Ohio
"I wanted to let you know that the work you, Janet and Donnell did was and is transformational!!  Feel very good my friend.  We engaged in a two-year Diversity, Inclusion, and Equity initiative where the full board, full staff, and leadership from our population-based affiliate fund participated in six Saturday Retreats to build skills in intercultural competence.  We've since changed our governance structure, are building a newly aligned system of resource allocation and decision making with the CFLC and affiliates and we are developing an equity voice.  Oh yeah and we spearheaded the creation of and community LGBTQ advocacy group and LGBT Fund.   There is certainly NO dust on the report you penned! The transformative results of this work gave me sufficient confidence in the sustainability of the CFLC "culture" to make the retirement move.  Thanks for your help!

Brian Frederick    |   President/CEO, Community Foundation Lorain County (Ohio)
Congratulations to Center client and partner, Foundation for Appalachian Ohio (FAO), for receiving The Secretaries' Award for Public-Philanthropic Partnerships 2014 for its Growing Home Initiative. In addition to serving as technical advisor for the grant and initiative, FAO engaged the Center to develop a curriculum designed to help communities launch, grow, and develop community funds dedicated to enriching the county's quality of life and creating opportunities for the county's citizens that have not been available in the past. You can read more about it HERE.
You can also read about the research work and benchmarks the Center proposed to FAO in its second annual Regional Opportunity Scorecard 2014, which looks at the region's philanthropic assets, development and growth.
South Dakota
Texas Panhandle
Learn how the Center for Rural Entrepreneurship's empowering research is being used by the Amarillo Area Foundation in their work across the Texas panhandle. For more information about how our Community Development Philanthropy tools can help your community craft a strategy for long-term prosperity, download our free guide.